Stats as of Tuesday July 12th*
As we approach the All Star Break, many of us might say this has been a season to remember….in a very, very bad way. But even dumpster divers find something nice in a heap of trash! So let's take a look at some of the (very few) bright spots of the season:
Jacob deGrom 
Photo by Elsa/Getty Images
Throw out the blown wins and lack of run support, we aren't going to focus on that right now. We are more than halfway through the season and our ace has an ERA under 2. He's finally getting the national recognition he deserves (in part because of trade rumors but that's another story). As Mets fans we've known just how good Jacob deGrom has been for the Mets over his entire career. Here's just one example from twitter by @OmarMinayaFan:
Here's another example brought up by MLB Network: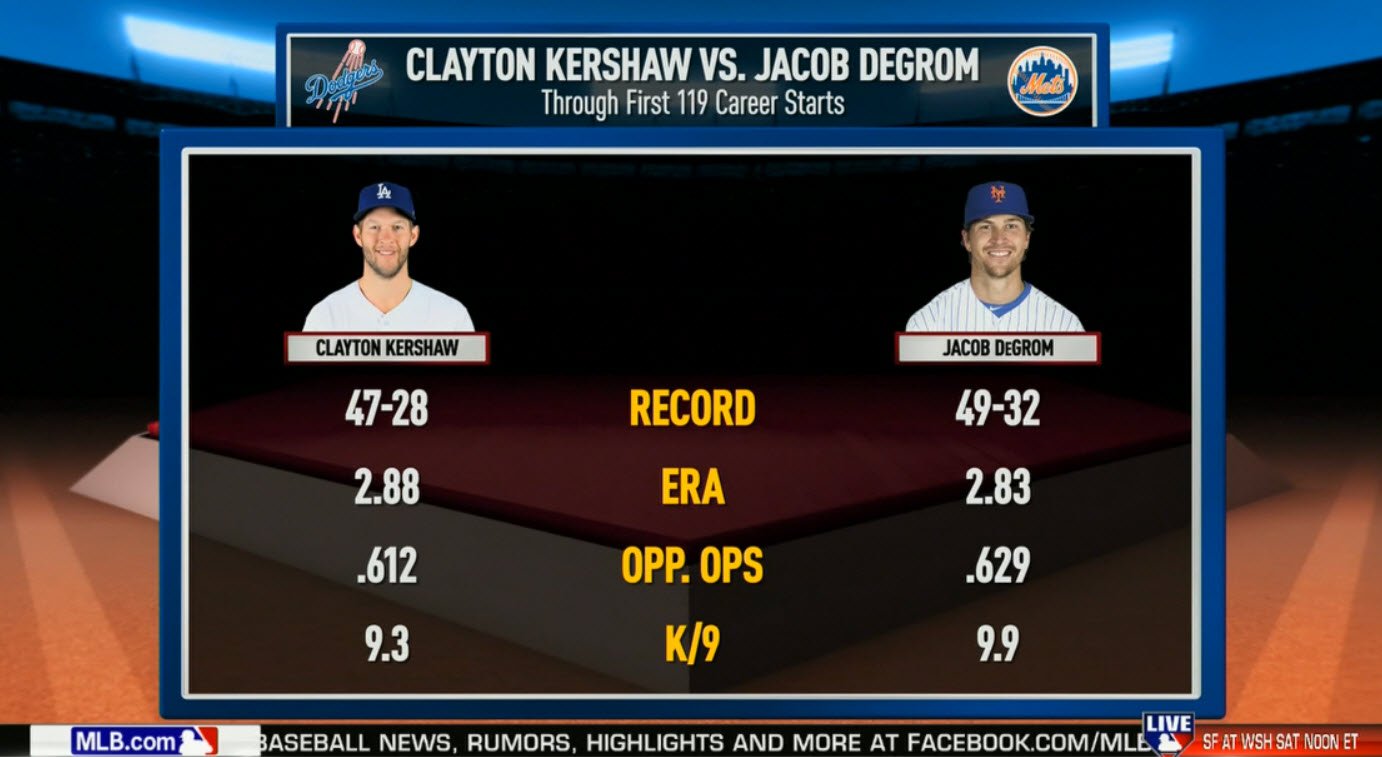 DeGrom has always been a shining light for us ever since 2014, whether the team as a whole was having a good season or bad season. While it might be a smart move to trade him away, something that many of us have debated over the previous 2 months, I'm hoping he stays a Met for many years to come.
Brandon Nimmo
I dare you to look at this gif and not smile. The pure joy and energy Brandon Nimmo brings to the Mets is what makes watching them bearable at this point. Outside that, he's been the Mets best hitter throughout the entire season. Despite hitting a rough patch, he's still sporting an .878 OPS, good for 10th best among all major league outfielders. His new power approach has paid dividends, as evident by his .498 slugging percentage and career high 12 homers, 6 more than he hit all of last season. Even with his new found power he is still getting on base at an extremely high rate. His .380 on base percentage is good for 11th in the National League. Imagine not wanting Brandon Nimmo in the all star game? Could never be me…at least we get to see and appreciate what he brings to this team on a daily basis.
Now that I've mentioned two of the quite obvious bright spots, let's look at some hidden gems of the season:
Steven Matz and Zack Wheeler
Let's rewind back to last year for a second. Steven Matz had a 6.08 ERA in 13 starts after missing basically the entire first half of the season with elbow inflammation. Continued elbow irritation led to him getting ulnar nerve transposition surgery, the same surgery deGrom underwent before having a phenomenal 2017 season. Fast forward to 2018 and Matz's ERA has nearly halved. His 3.31 ERA is good for 11th in the national league which is pretty amazing considering he was a big question mark coming into the season. He has rarely lost his composure on the mound this season, something the likes of Dave Eiland and Mickey Callaway maybe should get more credit for helping him overcome.  He's possibly the healthiest we've ever seen him on the mound and his off-speed pitches are refined and seemingly better than ever. I mean just look at this nasty curveball:
Zack Wheeler has a very similar track to this season. After recovering from Tommy John Surgery in 2015 and 2016, Wheeler made a return in 2017 only to battle with biceps tendinitis and a stress reaction in his right arm. Coming into 2018, he was certainly one of, if not the biggest, question marks coming into the season. He didn't even make the rotation coming out of spring training. Now it's July and he looks better than ever. His 4.42 ERA doesn't seem to accurately depict how well he's been throwing this season. Looking at advanced statistics, Wheelers FIP, or fielder independent pitching, is 3.71. Thanks for that, Mets defense. Despite the stats, he's throwing 98-99 mph fastballs to go along with a nasty curve, slider, and new splitter. If he could ever find a little more consistency…good luck, hitters.
Who knows if either one will be on the Mets come July 31st, a sad situation to think about in my opinion. Either way, it has been pretty fun watching them dominate hitters with their nasty pitches.
Seth Lugo
How can you not be a fan of the king of spin rate? Outside Jeurys Familia, Seth Lugo has been one of the only consistently reliable pitchers in the bullpen this year (whether or not he should be in there is a different story). In all of May, Lugo had 12 appearances and only gave up runs in one of those appearances. Total dominance. After starting a few games in June, Lugo has been sent back to the bullpen for July and is sporting a 1.23 ERA in 7.1 innings. Pretty good if you ask me. Watching him strike out Stanton never gets old.
Asdrubal Cabrera
Last but certainly not least, Cabrera has had a phenomenal season, something not very rare for athletes playing the year before free agency. Despite his, to put it lightly, unpleasant defense at second base, Cabby has been one of the very few consistently good hitters this season, sporting a .280/.326/.485/.811 slash line. If the season were to end today, the .811 OPS would be his career high. He's already hit 16 homers this season, 2 more than he hit all of last season. While it is seemingly inevitable that he gets traded before August 1st, you can't say he didn't go out with a bang.
All in all, it's been one horrendous season. However, SOMETHING has to make us keep coming back at 7:10 every night. For me, it's been these six players.