The year was 2009 and Carlos Beltran's knee was limiting his ability to play consistently. Jeff and Fred Wilpon did not want Beltran to get knee surgery. They wanted him to play through it as they felt knee surgery wasn't necessary.
The Wilpons were not shy with their displeasure with Carlos Beltran. In the New Yorker magazine story Fred Wilpon stated: "We had some schmuck in New York who paid him based on that one series. He's 65 to 70% of what he was." He was referring to Beltrans second half with the Houston Astros in 2004.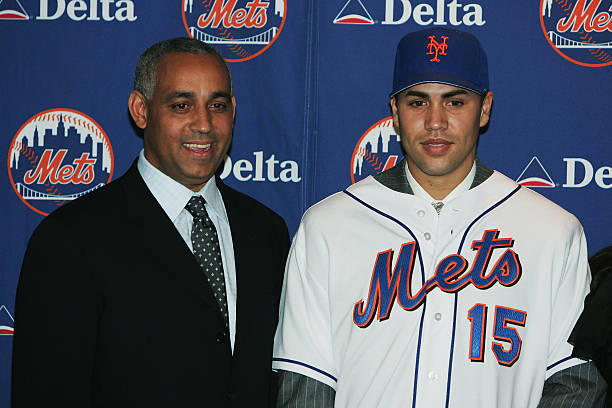 As the 2009 season went on Beltran's knee did not get better. He missed 2 and a half months with a painful bone bruise on his right knee. He did return that season on September 8th. The Mets finished 70-92 and fourth place in the NL East.
The original plan was to have Beltran rest his knee in the off season of 2009 so he would be good to go for 2010. On January 13th 2010, Beltran had microscopic surgery on his troublesome right knee to save his career. The time table for his return was between 8-12 weeks. He missed the first half of the 2010 season.
John Ricco was not aware of the surgery and neither was the Mets front office. They were pissed off. At the time the Mets contacted the commissioner's office about possibly filing a grievance.
"We told the agent for the player that we wanted to have the ability to discuss the diagnosis and possibly have a third opinion because, you know, of the nature of this injury," Assistant general manager John Ricco said during a telephone conference to ESPN. "We wanted to have the opportunity to digest the information, the diagnosis, and unfortunately we were never afforded the opportunity to do that."
Beltran was confused as to why the Mets front office was angry with him getting surgery. The way they handled the situation during the 2009 season and 2010 off season just goes to show how dysfunctional this organization is.
"I am totally surprised by the reaction to my recent knee surgery," Beltran said in a statement released by Boras in 2010. "I have done nothing but follow the directions of my doctors. Any accusations that I ignored or defied the team's wishes are simply false."
He also said general manager Omar Minaya wished him well on Tuesday the day before surgery and did not ask him to wait or get another opinion. "There was nothing said about waiting at that time, Boras told the DailyNews. I woke up Wednesday and got calls from Jeff and Ricco requesting the extra time. I had no problem with that. But then I got a call 90 minutes later that the surgery was already done."
"No one from the team raised any issue until Wednesday, after I was already in surgery," Beltran said. "I do not know what else I could have done."
"Dr. Altchek verbally agreed with Dr. Steadman's assessment and was in agreement on arthroscopic surgery, and he informed Dr. Steadman that he would call the New York Mets to inform them of his approval," Boras said.
"Ray Ramirez gave verbal approval and workmen compensation forms for surgery," . "All of that was done on Tuesday afternoon. It is unfathomable to me that Dr. Altchek or Ray Ramirez did not report to the Mets on Tuesday that Carlos Beltran was having surgery."
In my opinion surgery was a smart move for Beltran. It saved his career and he had a bounce back season in 2011. At the trade deadline the Mets traded him the the San Francisco Giants and they received the Giants top  pitching prospect Zack Wheeler. He finished the 2011 season with 22 home runs, 84 RBI's and a .300 batting average.
June 27th 2011 (A year after surgery):
"I'm just so happy that everything has worked out,"  "I feel all the work that I put into it paid off. It took time, but everything worked out."

It wasn't like I wanted to have the operation," "But when I met with the doctor in New York, the team doctor, he told me there was nothing he could do for me. The team doctor is saying there is nothing he can do for you. I was thinking: 'Well, that's the end of my career? I'm not going to play baseball anymore?'"No, no. Come on, man. For a bone bruise? I'm not going to be able to play this game anymore? I wasn't going to give up. I felt that I needed to search for the best doctor in the world, and Scott was able to find the doctors, and thank God I feel good."- Carlos Beltran
After spending 7 seasons with the Mets, Beltran went on to play with the Giants, Cardinals, Yankees, Rangers and the Astros. He finally got his ring in 2017 when the Astros defeated the Dodgers in the World Series. His knee surgery saved his career.
Fast forward to 2018 and the Mets have the same situation as they did in 2009 with Carlos Beltran. Yoenis Cespedes legs are broken down and the only way to fix the situation and to save his career would be for him to get heel surgery right NOW.
The root of Cespedes leg injuries stem from Calcification. Calcification is extra bone growth in the heel. xtra bone growth in the form of spurs is not uncommon in the heel area. Bone spurs can exist in isolation and are often present without causing pain. However, if the spurring creates significant friction, or if, as noted above, bone is present within other tissue, the resulting condition can become disabling. When the pain and disability begin to increasingly interfere with the activity necessary to perform, athletes can become frustrated.
The recovery time for surgery is 8-10 months. If he gets surgery NOW he would be expected to come back in April-May or the latest June. The Mets however want him to stay on the field even though this is a lost season. Does this remind you of anything?
Mickey Callaway stated he was unaware of Cespedes surgery option.  "That's concerning," Callaway said to the NYpost. "I feel bad for the guy. He has worked so hard. If you see the stuff he has to go through to get back — he worked so hard this winter. We talked about everything that he tried to do to put himself in a good spot to come out and be healthy for the team. I feel for the guy because he's done everything he possibly can to stay healthy."
The disconnect between the Mets front office and the management and players is a circus act. "I don't think it's a disconnect," Ricco said. "It's not like he has been saying this for months and we just haven't been listening. … To our knowledge, the first [time] he even was considering this surgery was when he said it on Friday."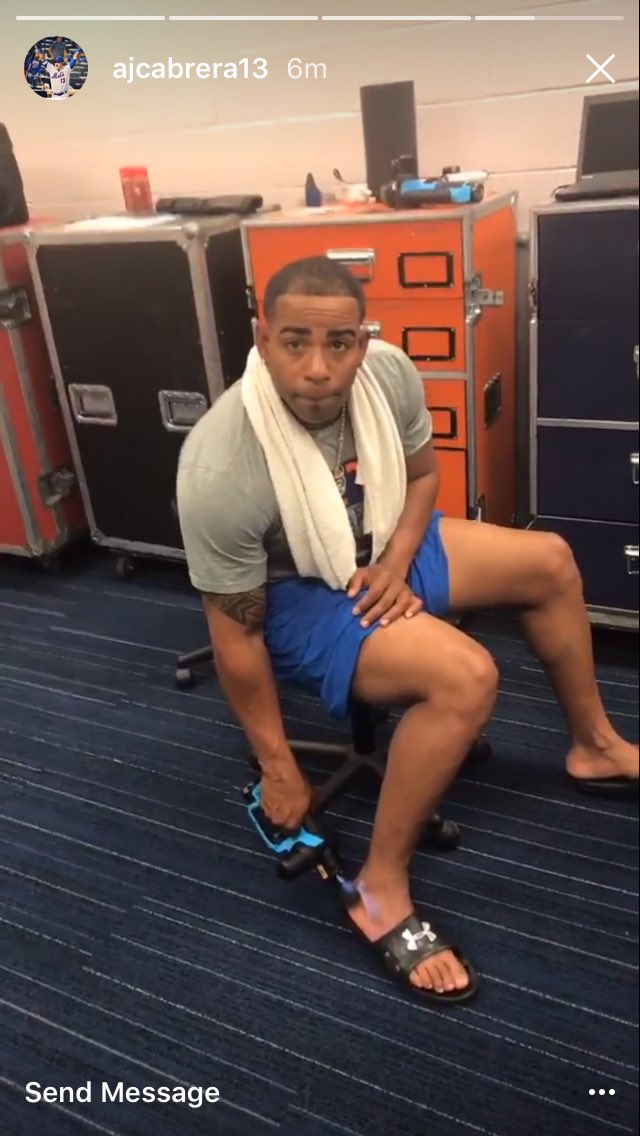 History of Cespedes Leg Injury's with the Mets:
June 4th 2016: Sore right hip- Day to Day
August 4th 2016: Strained Right Quad- 15 day DL
April 27th 2017: Pulled left hamstring – Day-To-Day
April 28th 2017: Strained left hamstring- 10 Day DL
June 12th 2017: Sore left heel– Day to Day
July 15th 2017: Hip- Day to Day
August 26th 2017: Right Hamstring Strain- 10 Day DL
May 16th 2018: Cespedes is placed on the DL with hip flexor strain.
May 25 2018: Cespedes starts running after hip injury
June 10th 2018: Mets try to rush Cespedes back for Yankees series. Cespedes has another set back after rehabbing with Binghamton.
"It's not a total setback to day one," "But he's still not feeling the way he would like it to feel to come up here and contribute." "We just don't know."  "We thought Tuesday was going to be it. So it's kind of day-to-day." – Mets Manager Mickey Callaway
June 30th 2018: Cespedes was supposed to meet the Mets in Florida when they played a 3 game series with the Miami Marlins Callaway later reported that he wont be joining the team.
We thought it would probably hinder his ability and his rehab to come here for a couple of days," Callaway said. "We're going to keep him there in Port St. Lucie and continue what we've been doing . . . It would have been tough for him to get the rehab he needed here."
July 20th 2018: Cespedes hit a home run in his return against the Yankees but after the game informs the media that he might need heel surgery.
If he can manage the pain, he is able to play," Ricco said. "For this condition, surgery is a way to get there, but you hope not to get there and get through it with the conservative treatment."
July 23rd 2018: Cespedes will visit a foot specialist as well as Dr. David Altchek this week as he considers surgery on the calcification in his heels.
July 23rd 2018: Report: There's a feeling within the organization that Cespedes is exaggerating the injury.
The Mets are handling this just like they did with Beltran in 2009. This organization is so dysfunctional and Major League Baseball needs to step in and send the Wilpon's packing. The Mets need to shut down Cespedes now and let him get heel surgery. If he gets surgery this month he would be scheduled to return in April or May of 2019.