Mets and Yankees fans have their differences. We hate each other. The two teams are heading in different directions. However, we can both agree that the ESPN coverage of last nights game was terrible.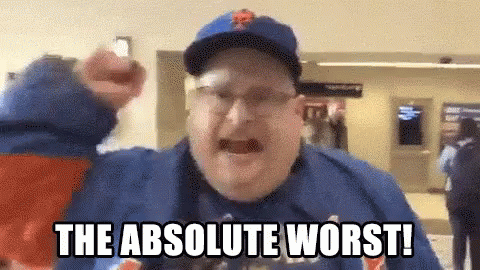 Here are some quotes by the announcers last night:
"Nemo"
"Is there an imaginary line a catcher has to pass for a mound visit? You have to go where the person lives, meaning the pitchers mound."
"His offense is good it's his Third basing thats not"
"Rosario the star of the game tonight. A dramatic home run in the first and now a bloop single. He is clearly in a good place." (it was the top of the 2nd inning)
" If you didnt know who Rosario was you'd say he's an all star short stop from watching this game."
The announcers then proceeded later on in the game to make fun of Mets history. Especially Johan Santana blowing out his shoulder after pitching the first no hitter in team history. They also discredited a win for pitchers the whole night. I guess we know their opinion on deGrom's chances of winning the Cy Young. You guys are getting paid to announce the game, not bash a team.
In the bottom of the 9th inning the score was 8-5 and Robert Gsellman was closing the game for the Mets. The ESPN crew decided it was a perfect time to show their little league uniforms instead of showing the game. The best part of the game actually.
Imagine this: The Yankees actually came back and ESPN missed it because they were so focused on themselves rather than the game? Get over yourself. You are getting paid to announce games. Nobody cares about your little league uniform on a nationally broadcasted network. But thankfully they didn't and the final score was 8-5. Mets win.