*Header image was created by Athletelogos. Check them out on twitter and Instagram.
David Wright was drafted by the New York Mets in the 1st round (38th) of the 2001 MLB June Amateur Draft. The Mets deferred payments to Bobby Bonilla so they could have enough money to trade for Mike Hampton and after he left the following year to sign with the Colorado Rockies,the  Mets received a comp pick, David Wright.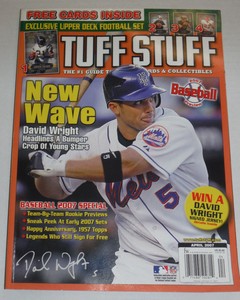 The original scouting report from 2004:
David Wright
New York Mets
Position: 3B Height: 6-0 Weight: 190 Born: 12/20/82 Bats: Right Throws: Right
Background
The Mets drafted David Wright in the supplemental first round of the 2001 draft, out of high school in Chesapeake, Va. He has progressed steadily up the ladder, and is now the premier prospect in the Mets system, dominating the Double-A level in the Eastern League for Binghamton in '04. Wright does everything well, and is one of the most complete prospects in the game today.
Scouting report:
Wright is a solid all-around athlete. His weakest tool is his running speed, which is average. But he has excellent instincts on the bases, and has shown he can steal a base. His aggression on the basepaths has increased as his confidence has grown. Defense is another strength. Wright has above-average range, a strong arm, and soft hands. Some scouts believe he could be a Gold Glove at third base with more experience. But where Wright really stands out is with the stick. His strike-zone judgment is outstanding. He shows power to all fields, but can go the opposite way when pitchers try to pound the outer half of the zone against him. He handles fastballs and breaking balls equally well. His hands are quick, enabling him to deal with inside pitches. He should hit for average and power at all levels. Scouts say that Wright has no real weaknesses. His main problem in past seasons has been streakiness, especially in cold weather, but he's been incredibly consistent so far in 2004. His work ethic is exceptional and he loves the game.
Performance:
Statistically, Wright has improved at every level. His walk rate has always been strong, but his strikeout rate has declined as he's moved up, an excellent marker for a developing hitter. His batting average in '02 and '03 was mediocre, but it's been excellent this year, combining with his high walk rate to give him terrific OBP/SLG/OPS marks. He may be a .260ish hitter in his initial exposure to the major league level, but in time he should hit in the .300 range. His large number of doubles is an indicator of more home run power to come. Scouts like to compare him to Scott Rolen, and the numbers back this up.
Health record:
Wright has had no serious injuries or health concerns. His biggest problem has been maintaining his physical strength over a long season. He is a workout nut and the Mets worry that he works too hard sometimes. Generally speaking, a player who works too hard at staying in shape is likely to have a better career than one who doesn't work hard enough.
What to expect:
Several clubs have asked about Wright in trade talks, particularly the Kansas City Royals, who are looking to trade Carlos Beltran for an impact prospect. The Mets so far have balked at giving Wright up; they understand his value. He's the most complete third base prospect in the minor leagues, and second only to B.J. Upton among all upper-level position players in terms of long-term impact. He will be ready for a major league job in 2005, in Shea or elsewhere, and should be regarded as an early candidate for '05 Rookie of the Year.
---
Wright progressed steadily in his first three years of minor league play, winning the Sterling award for best player on the class A St. Lucie Mets in 2003. In 2004, he quickly rose from the Double-A Binghamton Mets to the Triple-A Norfolk Tides. He made his major league debut on July 21, 2004. The day after making his debut, he recorded his first hit, a double off of Montreal's Zach Day.
Wright is a seven-time All-Star, two-time Gold Glove Award winner, two-time Silver Slugger Award winner, and a member of the 30–30 club. He holds Mets franchise records for most career runs batted in,  doubles, total bases, runs scored, walks, sacrifice flies, times on base, extra base hits, and hits. He was named captain of the Mets in 2013, the fourth in team history.
Timeline:
In 2005, the 22-year-old Wright played in 160 games and batted .306 with 27 home runs, 102 RBIs, 99 runs scored, 42 doubles, and 17 stolen bases, leading the team in average, runs, on-base percentage, slugging percentage, RBI, doubles, and finishing second in home runs to Cliff Floyd.
In 2006, Wright was voted on to his first MLB All-Star Game as the starting third baseman for the NL. During the 2006 season, Wright collected 74 RBIs before the All-Star Break, breaking the Mets record previously held by Mike Piazza, who had 72 RBIs in 2000. Wright ranked among the club's top three hitters in all offensive categories for the 2006 Mets, who were the second most run-scoring team in the National League.
In 2007, Wright had a hitting streak of 26 regular season games; the previous team record was 24, held by Mike Piazza and Hubie Brooks. On September 16, 2007, Wright became the 29th player in baseball history to join the 30–30 club, after hitting a 7th inning solo home run against the Philadelphia Phillies at Shea Stadium. He is only the third player to reach this milestone before his 25th birthday, and only the third Met to reach this milestone in club history, the other two being Howard Johnson and Darryl Strawberry. Wright was awarded the 2007 Gold Glove and the Silver Slugger Award at third base. He also was fourth in the NL MVP voting receiving 182 votes.
In 2008, Wright won the Rawlings Gold Glove award for the 2nd consecutive year. He finished seventh in the voting for the 2008 NL MVP award after finishing the season with a .302 batting average with 33 home runs and 124 RBI.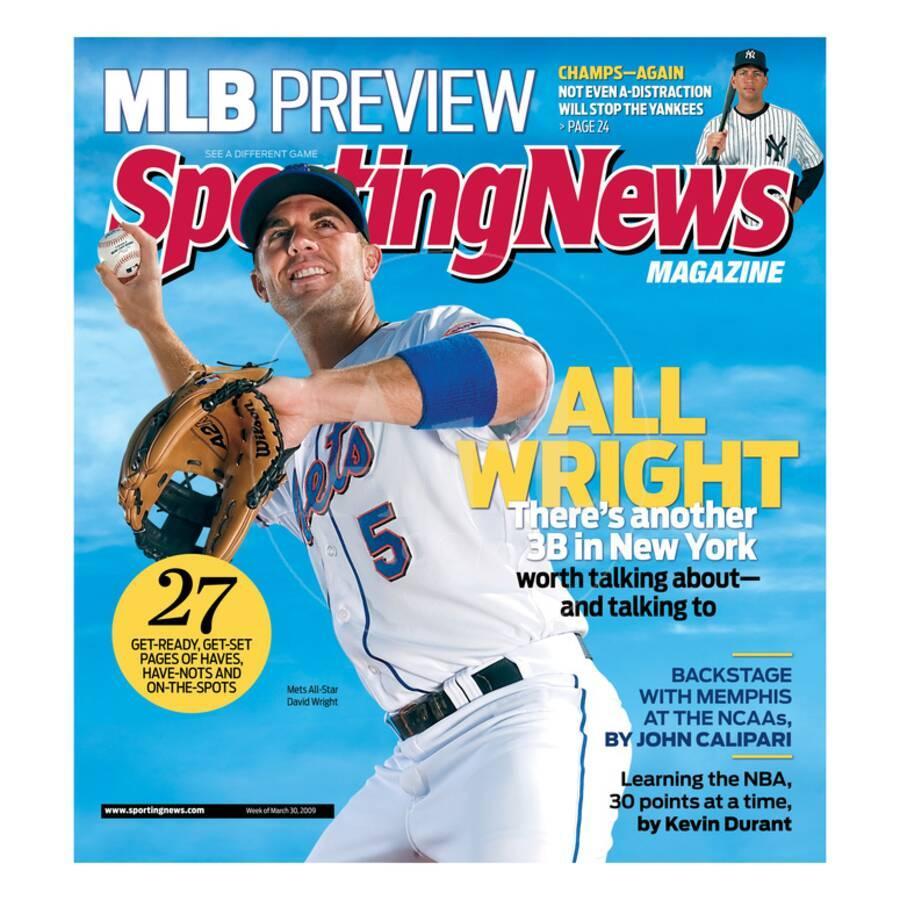 In 2009, Wright hit the first Mets home run in Citi Field history on Monday, April 13, 2009, Citi Field's Opening Day. The three-run home run was hit off San Diego Padres pitcher Walter Silva in the 5th inning. On August 15. Wright suffered a concussion when he was hit in the head with a 93 mph (150 km/h) fastball by San Francisco Giants pitcher Matt Cain. He was then placed on the disabled list for the first time in his career.
In 2010, Wright finished the season with a .283 batting average, .354 on-base percentage, 29 home runs, 103 RBIs, 69 walks, and 19 stolen bases.
In 2011, Wright singled against the Phillies' Cole Hamels for his 90th career game-winning RBI, surpassing Mike Piazza for the most in Mets history. (April 5th). Then on May 16, 2011, after undergoing examination by team doctors, it was announced Wright had a stress fracture in his lower back. The injury (caused by a diving tag on the Astros' Carlos Lee).
In 2012, on April 25, Wright hit a two run home run in a 5-1 victory against the Miami Marlins, giving him 735 career RBIs, passing Darryl Strawberry for the most in Mets franchise history.  On July 1, it was announced that Wright had made his 6th All-Star team, but as a back up to Pablo Sandoval. Wright led the All-Star vote for most of the year but was overtaken in the last week of voting. For the first half of the season, Wright was either atop or close to the top of the league in both batting average and on-base percentage, and led NL third basemen in average, OBP, slugging, hits and runs scored. On September 26, Wright surpassed Kranepool as Mets all-time hit record holder with an infield single also at home against the Pittsburgh Pirates. Wright finished 6th in the voting for the 2012 NL MVP Award.
In 2013, Wright and the Mets agreed to a 7-year contract extension worth $138 million (7 years for $122 million plus a club option for $16 million that the club picked up for the 2013 season). After a spring training game on March 21, the Mets announced that Wright had been named the fourth team captain in Mets history. The 2013 All Star game was hosted by Citi field. Wright was named the National League's Home Run Derby team captain for the 2013 MLB All-Star Game.
In 2014, Wright hit .269, his lowest batting average since his 2011 season was shortened due to injury. Wright's .269/.324/.374 slash line was attributed to a recurring shoulder injury.
In 2015, on April 14, Wright suffered a strained right hamstring while stealing second base. He was placed on the 15-day disabled list. He was later diagnosed with spinal stenosis, and returned in September. In his first at-bat from the DL, Wright hit a home run off Phillies pitcher Adam Morgan, the first of a club record eight home runs the Mets would hit in a 16-7 victory. In Game 3 of the 2015 World Series, he went 2-for-4 with 4 RBIs, including his first World Series home run, a two-run home run, off Yordano Ventura as part of the Mets' 9-3 victory and their first and only win of that series.
In 2016, Wright hit a bases-loaded single off of Milwaukee Brewers pitcher Michael Blazek to break a 4-4 tie in the bottom of the 9th inning and give the Mets the victory. (May 21st). On June 3, Wright was placed on the disabled list due to a herniated disc in his neck. On June 16, he underwent neck surgery to repair the herniated disc. He missed the remainder of the 2016 season.
In 2017, after rehabbing from his neck surgery, Wright was diagnosed with a right shoulder impingement which, at the time, jeopardized his ability to play on Opening Day. On September 4, it was revealed that Wright would undergo rotator cuff surgery on his right shoulder, which prevented him from playing in the Majors all year in 2017. He underwent the surgery on September 5.
---
David Wright has been activated today, September 25th for the Mets final homestand of the 2018 season. It's a bitter sweet, emotional feeling. He worked so hard to get to this point. His career was shortened due to unforeseen medical conditions. He was on the path to a hall of fame career. We could always talk about the what ifs and why did this happen to such a great guy? But this is reality and it must sink in.
September 29th, 2018 will be David Wright's day. A chance for fans to say goodbye to a player they watched grow into the baseball player he is today. For the fans who watched him the day he got called up, it's going to be hard to say goodbye. It was your childhood. He was your hero growing up. As you grew older so did he. Now you get a chance to say goodbye to someone you felt like you knew your whole life.
It's going to hurt. You are going to cry. Wright meant something, he meant everything to this baseball team. He gave us hope. He said the right things and was never negative about the team. He was the captain Mets fans deserved and needed. He will go down as the greatest Mets player to wear the uniform. If you are going to the game this Saturday make sure you to take in that moment. Cheer as loud as you can and get plenty of pictures of him in uniform because his number, 5, will never be worn again.