The off season of 2005 and 2006 could go down as one of the busiest off-seasons in New York Mets history. Key free agent signings in 2005 and 2006 led the Mets to the National League Championship series. Lets take a look at all their acquisitions.
2005:
The Mets hired Willie Randolph, Manny Acta, Jerry Manuel, Sandy Alomar, Guy Conti, Rick Down, and Tom Nieto.
Minaya declined the $10 million dollar option on Al Leiter.
Signed Juan Padilla (league minimum).
Re-signed Kris Benson to a three-year, $22.5 million contract.
Traded Mike Stanton to the New York Yankees for Felix Heredia.
Signed Mike DeJean to a one-year, $1.15 million contract.
Signed Ramon Castro to a minor league contract.
Signed a 33-year-old Pedro Martinez to a four-year, $53 million contract.
Signed Chris Woodward to a two-year, $1.525 million contract.
Traded Vance Wilson to the Detroit Tigers for Anderson Hernandez.
Signed Marlon Anderson.
Signed Miguel Cairo to a one-year, $900,000 contract.
Singed Dae-Sung Koo to a one-year, $425,000 contract.
Signed a 27-year-old Carlos Beltran to a seven-year and $119 million contract.
Signed Roberto Hernandez to a one-year, $600,000 contract.
Traded Ian Baldergroen to the Boston Red Sox for Doug Mientkiwicz and cash.
Traded Jason Phillips to the Los Angeles Dodgers for Kaz Ishii.
Traded Ian Baldergroen for Doug Mientkiwicz:
2006:
Traded Mike Cameron to the San Diego Padres. Received Xavier Nady.
Traded Grant Psomas, Mike Jacobs and Yusmeiro Petit to the Florida Marlins. Received Carlos Delgado and cash.
Signed Billy Wagner as a free agent.
Traded Dante Brinkley and Gaby Hernandez to the Florida Marlins. Received Paul Lo Duca.
Signed Julio Franco as a free agent.
Signed Jose Valentin as a free agent.
Signed Endy Chavez as a free agent.
Traded Tim Hamulack and Jae Weong Seo to the Los Angeles Dodgers. Received Duaner Sanchez and Steve Schmoll.
Traded Kris Benson to the Baltimore Orioles. Received Jorge Julio and John Maine.
Signed Pedro Feliciano as a free agent.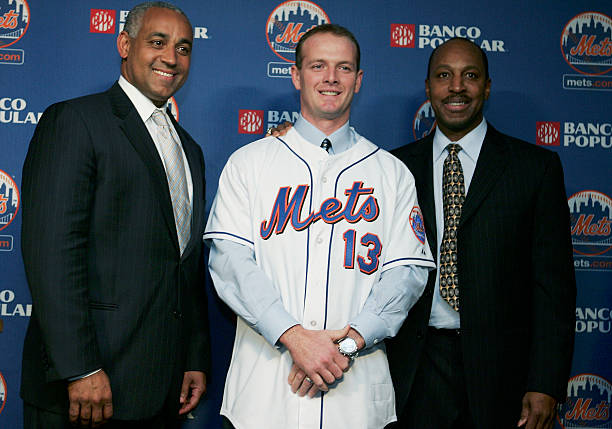 The best part about these key free agent signings was that players such as Carlos Beltran and David Wright tried to lure other players to come play for the Mets. They believed in the Mets vision.  http://www.espn.com/mlb/news/story?id=1963185
The Mets are still trying to figure out who their next general manager will be. It is between Brodie Van Wagenen and Chaim Bloom. Can either of these candidates have an off-season as busy as the 2005 and 2006 GM had? We shall see!