Dear Brodie,
The fans are dissatisfied. This isn't enough to make us a championship caliber team and you know it.
Two quotes from yesterday's press conference I would like to discuss:
"I fully expect us to be competitive and to be a winning team and our goal is to win a championship and it starts with the division, so come get us."

"We want to win the pennant. And after that, we want to win the World Series. I'm less concerned about what other teams in the division are doing. … I hope that those guys continue to get themselves better because we'll go slug it out with them every day."
You cannot tell the NL East to come get us when they are still making more impactful moves to better their lineup. The Phillies and Nationals are targeting Bryce Harper. The Mets are not. Why aren't we?  Because Mcneil who has played 8 career games in college is going to be in left field? Or is it the platoon of Broxton and Lagares stopping you from signing a once in a generation type player? I say neither. The real answer is the Mets do not want to take on that kind of contract because of "Payroll constraints." Mets fans are not blind, we are annoyed.
The Wilpons need to look themselves in the mirror and realize what signing Bryce Harper could do for this franchise. He could sell jersey's, season tickets and other merchandise quicker than any player we've had in franchise history!
When the Mets signed Carlos Beltran before the 2005 season, attendance jumped 22% from 2004. That's the second-largest jump since 2000. Mets fans are desperate for a big name free agent. We want a reason to go to games. Put us over the top!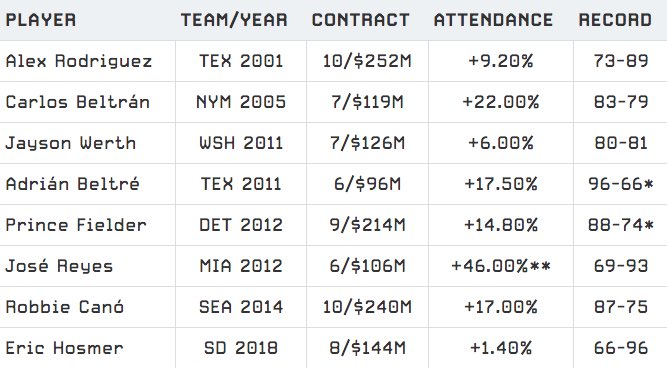 Jeff Wilpon said that one of the reasons the Mets were so aggressive on Edwin Diaz is that they wanted to block him from the Phillies getting him. If that is true then what are the you and the Mets going to do when the Phillies are looking to get Manny Machado or Bryce Harper?!
It is unfair to the fans to say you are "in on every free agent" but then the front office turns a blind eye to two generational baseball players who now might sign with a division rival. Mets fans deserve better. There should be no reason as to why we aren't in on Bryce Harper. It's sad, disappointing and sends the wrong message to fans.
Sincerely,
A fan who really wants Bryce Harper.